Hey! Looking for more great resources to help you during your time in Hokkaido? You came to the right place! Introducing T.J. Wissick, the Hokkaido Prefectural Advisor (PA):
---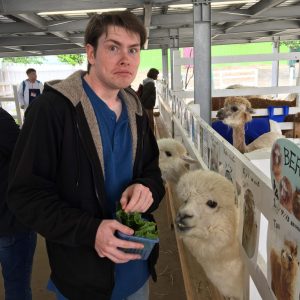 Welcome to Hokkaido! I'm T.J. Wissick, and I have the pleasure of being your Prefectural Advisor this year. I began my time here in 2016 as an ALT in Naie, a small town between Sapporo and Asahikawa renowned for tomatoes, melon, and its ability to create an almost entirely produce-based identity. I now make my home in "The Thunderdome;" a place most would refer to as Sapporo. But I think "Thunderdome" really inspires awe, so I'm sticking with that.
As Prefectural Advisor, it's my responsibility to ensure that you all transition smoothly into your new positions, while also helping to address any concerns that you might have along the way. I'm incredibly excited to join you all in this new capacity, and I can't wait to see what amazing things we'll get up to in the coming year. Japan, specifically Hokkaido, is an incredible place with tons to do and see. I hope you all find ways to make the most out of your time here, and ways to make this experience uniquely yours.
Please don't hesitate to reach out with any questions you have. I'm never more than a LINE message, email, or extradimensional subspace SOS beacon transmission away!
---
T.J. Wissick
Coordinator of International Relations (CIR)
JET Programme Prefectural Advisor (PA)
Office of International Affairs, Hokkaido Government
Office Hours (8:45 ~ 16:45 M-F)
Email: terrence.wissick@pref.hokkaido.lg.jp
Phone: 011-231-4111 (ex.21-234)
Out of Office
Email: pa@hajet.org