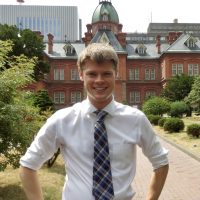 Hello! I'm Max, your Prefectural Advisor. This is my fourth year as a JET in Hokkaido, having spent the first three spent ALTing on the east of the island in the small fishing town of Shiranuka (if you've ever drunk Tantakatan, then you've had a drop of Shiranuka inside you). Taking up the PA role has meant moving to the Big Sapple; swapping the tranquil hills and pastures of Hokkaido's east for the blazing lights of its largest city. It's been quite a change of pace, but also exciting to experience more of this great big northern island we call home.
I was born in Australia, but within a fortnight was bundled onto a plane headed for the United Kingdom where I've spent most of the following years. The great thing about Japan is that I can experience both nations' climates without having to leave the country. Eastern Hokkaido's mild, misty weather has provided all the London drizzle I could ask for, and the rest of Japan isn't too far away if I ever get nostalgic for Australia's heat and humidity.
As a CIR PA, my job is to offer support and advice to the JETs of the island, as well as co-ordinate with other members of the International Affairs Division to provide as accurate and useful information as possible to help you settle into Hokkaido life. Through communicating with the regional Block Advisors, as well as HAJET itself, we hope to provide a wide-ranging network that can support the island's many JET participants with issues large and small.
Please feel free to get in contact via any of the addresses below.
---
Maxwell Stibbard Hawkes
Coordinator for International Relations
JET Programme Prefectural Advisor
International Affairs Division, Hokkaido Government
Office Hours: 8:45~16:45, Mon~Fri
Office Email: stibbardhawkes.maxwell@pref.hokkaido.lg.jp
Office Phone: 011-231-4111 (ext. 21-210)
Out of Office Email: pa@hajet.org